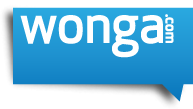 If you're looking for the Wonga contact phone number there are 2 and they are as follows :
If you want to speak to a human being, it's :
0207 138 8330
If you don't want to speak to a human being you can call their automated repayment line which is :
0207 1830063
If you want to email them about a problem repaying your payday loan, you can do so at :
collections@wonga.com
You might also like to check out a great website called Say No To 0870. We hate companies that we already pay money who use premium rate numbers, like 0870 and 0871 to they make money when we call them.
Especially when we are put on hold at OUR expense! They even make money from us if we are calling to complain. Not good.
Say No To 0870 is a database of companies REAL phone numbers that start with 01 or 02 that you can call free or cheaply from your landline or mobile phone depending on your plan.
This is updated by the general public so some numbers will be out of date and wont' work, but, there is a lot of good current alternative numbers on there, we hope you find it useful.
We hope this has been helpful and you now have the Wonga contact phone number.