Payday Express is a UK based payday loan direct lender, and is part of The Money Shop.
Payday Express has been helping people get short term express loans since 1999.
Payday Express give loans from £80 – £800.
You can borrow up to £400 the first time, depending on what you earn and how they assess your affordability – this can increase if you need future loans, again, IF and only IF, you can afford it.
If you want to apply for a payday loan from
Payday Express
, you must meet these criteria:
[custom_list type="check"]
To be over 18 years old
To be a UK resident
To be in full time employment in the UK, earning a minimum of £750 a month after tax
To have your wages paid directly into a bank account that has a debit card
[/custom_list]
If you can say yes to all these, then you can apply online with Payday Express. It takes about 2 minutes to apply and you should have your loan decision either way within about 15 minutes.
If Payday Express cannot verify your employment with their internal credit check, they might ask to see your bank statements proving your income in rare cases, but in most cases the whole application can be done ASAP online.
Extend an payday express loan can be done via an SMS, Telephone or using your online login portal. The minimum payment fee to pay for an extension would normally be the interest rate of the original loan capital (loan amount).
For example, a £100 loan can have an extension fee of £33 if the interest rate is 33%. However, the maximum times of payday express extensions is 3 times consecutively.
If the day you get paid is 7 days or less from the date you take out a loan with Payday Express, you will not have to repay the loan until your NEXT payday – meaning that they offer you loans for up to 38 days.
Not all lenders do this, and we liked that they give you this option. PaydayUK also offer this.
However please note that their interest charge – £29 per £100 borrowed – is PER 31 days, so if you did want to borrow money for 38 days it would cost you a little bit more.
Payday Express charge £29 interest for every £100 borrowed per 28 days.
You have to pay the same amount of interest whether you repay the loan early or not.
Some payday lenders charge interest per day like Wonga, so if you repay your loan early you pay less interest. Payday Express does not offer this, it is just a straightforward £29.95 per £100 borrowed, per 31 days.
Another good thing is that if you are approved for a payday loan from Payday Express, they will send the money to your bank within 2 hours, using faster payments. Wonga charge just under £6 for this, PaydayUK send it for free.
You can have your money within 2 hours at no extra cost for the fast transfer.
Not all banks will accept a fast transfer, so you need to check to see if your bank DOES do this. IF it does not, it can take up to 3 days to receive your funds, but most are sent and received within 45 minutes.
Payday Express sends money out for their loans every 45 minutes 7 days a week!
Here is a table from the Payday Express website showing exactly how much they charge you for different amounts of money you might need to borrow. Each loan is repayable on your next payday in full + interest, as already stated.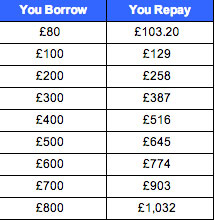 Payday Express will do a simple credit check for all first time applicants. They DO accept people with bad credit like most other payday lenders, so please do not worry about this.
They need to satisfy themselves that you are able to repay your loan 1 month later, and verify your ID and employment.
ALL payday lenders accept people with bad credit, they just need to make sure you are not registered bankrupt or being chased by debt collection agencies for non payment of other debts.
Repaying a payday loan on time and in full can actually help your credit rating, and in time you will become eligible for cheaper forms of borrowing if you repay a payday loan in full.
Regular use of payday loans does not look great on your credit record though.
If you are looking for a 100% no credit check payday loan, Wageday Advance is the ONLY UK lender to offer this.
If you are having problems repaying your loan you MUST call Payday Express ASAP to tell them so that they can help you arrange the best way forwards.
They allow people to defer their loan up to 3 times, which means that you ONLY repay the interest on your loan on your due repayment date NOT the amount you borrowed + interest.
This is 100% at their discretion and NOT guaranteed – so if you are in this situation and need to defer your loan, please call them ASAP so you can discuss it with them.
Repaying only the interest on your payday means that the loan charges do not just keep increasing indefinitely. Payday loans are short term emergency loans and you are not able to keep them for a long time.
If you borrowed £100 then you would repay £29 on your next payday if you are allowed to defer your loan. On the next month's payday you would need to repay £129.
As you can see the more you defer your loan the more money you pay. If you are still unable to repay your loan in full after deferring your loan a maximum of 3 months, then you need to contact Payday Express to come to an agreement that you can afford and that they are happy with.
This is for YOUR benefit! The sooner you repay your loan, the sooner you can move towards getting out of debt and reduce your costs and interest charges.
If you contact Payday Express if you cannot repay your loan in full, then you will not be charged other than the interest for that money as we explained above.
If you do NOT contact them and do not repay your loan in full and on time, then they charge a fee of £15 per missed payment.
We hope you found this page helpful about Payday Express.