PaydayUK is one of the biggest payday loan lenders in the UK.
PaydayUK is a direct lender, not a broker, and like most payday lenders, they have their own system of approving people for loans that does not need a traditional credit check.
PaydayUK offer payday loans from $100 – $1000 depending on what you earn.
First time borrowers can borrow a maximum of £400 but this can increase in the future if you repay your first loan on time and in full – so long as you earn enough to be eligible.
If you want to apply for a payday loan from PaydayUK, you must meet these criteria:
[custom_list type="check"]
Be over 18 years old
Be in permanent employment
Earn more than £500 net per month (after tax and your basic living expenses)
Have a bank account with a valid debit card
Be paid monthly
[/custom_list]
If you can say yes to all these, then you can apply either online or by telephone. Applying online is the fastest way, it takes about 2 minutes to apply and you should have your loan decision either way within about 15 minutes.
Occasionally they will ask to see more documents but this is rare.
If you can't say yes to all these criteria then you might want to try Payday Express instead, they are just as reputable a company but are a little more flexible on what you need to apply.
If the day you get paid is 7 days or less from the date you take out a loan with PaydayUK, you will not have to repay the loan until your NEXT payday – meaning that they offer you loans for up to 38 days.
Not all lenders do this, and we liked that they give you this option.
However please note that their interest charge – £29.95 per £100 borrowed – is PER 31 days, so if you did want to borrow money for 38 days it would cost you a little bit more.
Payday UK charges you a transparent £29.95 per £100 borrowed, per 31 days. You have to pay the same amount of interest whether you repay the loan early or not.
Some payday lenders charge interest per day like Wonga, so if you repay your loan early you pay less interest. PaydayUK does not offer this, it is just a straightforward £29.95 per £100 borrowed, per 31 days.
Another good thing is that if you are approved for a payday loan from PaydayUK, they will send the money to your bank within 2 hours, using faster payments. Wonga charge just under £6 for this, PaydayUK send it for free.
You can have your money within 2 hours at no extra cost for the fast transfer.
Not all banks will accept a fast transfer, so you need to check to see if your bank DOES do this.
Here is a table from the PaydayUK website showing exactly how much they charge you for different amounts of money you might need to borrow. Each loan is repayable on your next payday in full + interest, as already stated.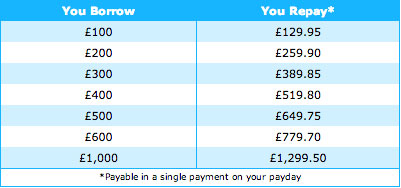 Like most payday lenders, PaydayUK has its own computer system that will rate you based on your pay, age, ID check and so on. This is a little like a credit check, but is NOT the same as a normal credit check from a bank.
These in house computers are designed to calculate the risk of lending money to someone who might not pass a normal credit check. This is slightly different for each payday lender, based on their previous customers behaviour and the way they calculate risk.
Additionally, PaydayUK DOES run a basic, normal credit check, but if you don't have great credit, you can still apply. PaydayUK regularly give payday loans to people who cannot get loans anywhere else – they just need to satisfy themselves that you can afford the loan and can afford to repay it in full on your next payday.
ALL payday lenders accept people with bad credit, they just need to make sure you are not registered bankrupt or being chased by debt collection agencies for non payment of other debts.
If you are looking for a 100% no credit check payday loan, Wageday Advance is the ONLY UK lender to offer this.
PaydayUK wants you to repay your loan on time and in full. If you call them BEFORE your loan is due to be repaid and tell them you are having problems repaying, they can choose to allow you to defer your loan, and in this case you repay only the interest due on your loan on the agreed repayment date, and then the whole loan + interest is due again the following money.
So if you borrowed £100, and you agreed to repay £129.95 on your next payday, in this case you would pay ONLY £29.95 on the original due date, and then 1 month later, you would need to repay £129.95.
Obviously, this costs more for you, so please try not to do this. PaydayUK does NOT automatically allow you to defer your loan, so you must call them to discuss your repayment options if you are having problems repaying your loan.
When we called them they told us that they allow people in extreme cases to roll their loan over up to 3 times maximum, before you need to look at other repayment options. This is NOT guaranteed that they will allow you to do this.
This is for YOUR benefit! Any reputable payday lender does NOT want you to keep deferring your loan and not repaying it in full. Payday loans are expensive, and designed to be for very short periods of time only.
Payday UK is the ONLY lender we have found so far that does NOT charge late payment fees. A late payment fee is an admin fee that the payday lender will add to your loan if you do not repay your loan in full + interest on the agreed date AND you do NOT call your lender to let them know beforehand.
Think about it – if YOU lent someone money and it wasn't repaid when it was promised, you would be a bit upset and annoyed too if the person didn't call you first to tell you wouldn't you?!
PaydayUK might change this at any time, and you can find all this in the exact terms and conditions of your loan if you choose to take one; at the time of writing they do NOT charge any late fees.
If you cannot repay your loan on the due date, you MUST call them at least 3 days before to tell them, and they will work with you to allow you to repay your loan ASAP, either by rolling it over to give you more time to pay, or, working out an installment plan that you can afford.


We will add to this page soon and we hope you found this interesting and helpful to read more about PaydayUK.